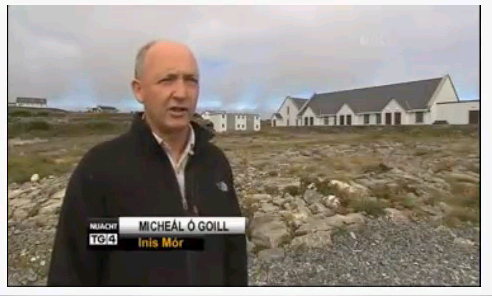 Rónán MacGiolla Phárdaig was interviewed on RTE Radio's Morning Ireland today explaining the Aran Island ' renewable energy research environment' initiative which Fuinnneamh Árainn is promoting with Energy Co-ops Ireland.
The interview is available on the RTE player (August 14th in the archives) and also as a MP3  here
Three members of the new Aran Islands Energy Co-operative, Fuinneamh Árainn were also interviewed on the Irish language television channel TG4's main news program about their plans for energy independence on the three islands by 2022. In their interviews, Mícheál Ó Goill, Rónán MacGiollaPhádraig and Éamon Ó Conceannan stated that initially the projects undertaken would ensure the energy upgrading of the principal public buildings on the Islands, for example Áras Rónáin, a large Nursing Home on the Island. Small turbines and other innovative technologies would be installed.
The Fuinneamh Arainn spokespeople also mentioned that they were seeking to purchase three wind turbines on Inis Meán which are no longer in use. This will be a step towards the three islands coming together to produce their own electricity.
The Co-op is open to inhabitants of the three islands and those wit business interests there also. Membership is by way of purchasing a single share in the co-op at €100 for a share.
The full interview (in Irish) is available here