Walney Offshore Windfarm is set to open officially with the capacity for its 102 completed turbines expected to be 367MW of electricity: enough to supply the energy needs of 320,000 homes (that's 30,000 more households than there are in the Dublin City  Council area)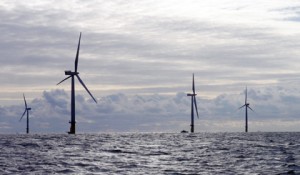 The second and final phase of the project was inaugurated by Secretary of State for Energy and Climate Change Edward Davey (who recently took over from Lib Dem's Chris Huhne) on Feb 9th in Cumbria, North Western England.
According to the company: 'Walney 2 came on stream November 1st, 2011, and was installed within only 5 months and 13 days. This is the fastest construction of an offshore wind farm ever carried out by any offshore wind power operator. The last turbine blade was installed on 22 September.'
This large-scale project represents a step forward in the UK's move toward renewables and comes about thanks to a massive £1bn investment from three companies SSE, OPW, a consortium of the Dutch pension fund service provider PGGM and Ampere Equity Fund, and DONG Energy.
At the inauguration, the new British Minister for Energy and Climate Change, Edward Davey, stated:
"Britain has a lot to be proud of in our growing offshore wind industry… Walney is the newest, largest and the fastest built wind farm project to date delivering clean energy for hundreds of thousands of households."