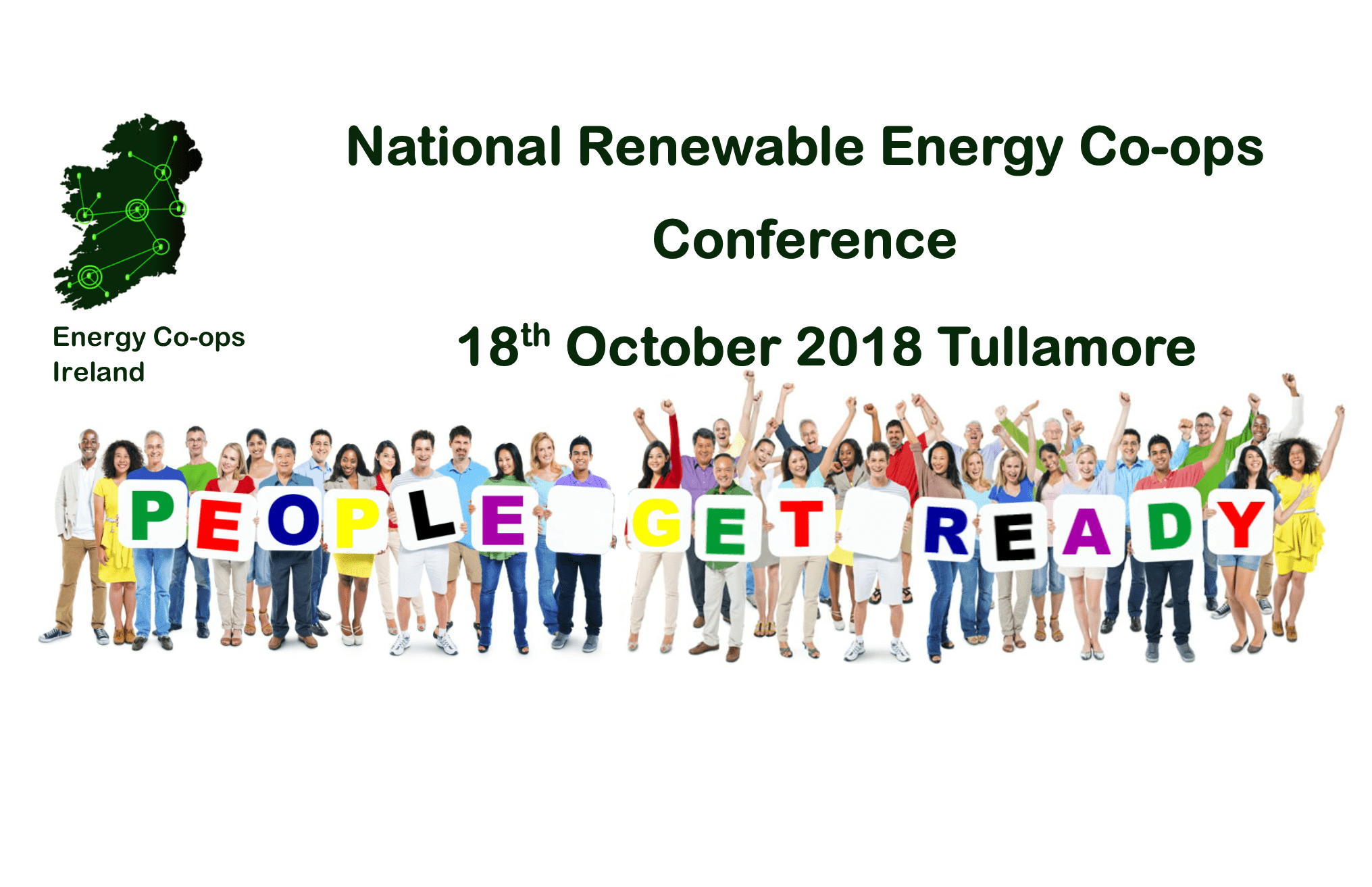 'People Get Ready'
Thursday, 18 October 2018 from 09:30 to 16:00
Bridge House Hotel, Bridge Street, Tullamore, Co Offaly.
The Landscape of the Renewable Energy Sector is set to radically change with the introduction of the new Renewable Electricity Support Scheme (RESS).
While the details of how community sector involvement are not finalized in RESS, the policy is expected to encourage community engagement in renewable electricity generation at an ownership level.
Communities are potentially in line for major benefits if they are organised to take best advantage of the new environment.
The conference will be attended by representatives of dozens of community organisations and co-operatives who are engaging in the growing renewable electricity sector.
Energy Co-operatives Ireland (ECI) and the Irish Co-Operative Organisation Society (ICOS) welcome the fact that now is the time for communities, both rural and urban, to examine the importance of community ownership in our growing renewable energy market. Communities can contribute to the fight against climate change.
The theme of this conference is 'People Get Ready'. The renewable transition will happen – so communities need to organise now to ensure that they can own/take ownership of this transition.
This conference is ideal for those seeking guidance from experienced specialists in the community sector on the concrete steps that communities can take to best organise themselves to take whole or part ownership of renewable electricity generation projects.
While former Minister Denis Naughten TD, was scheduled to open the conference, recent events mean that he will not now do so. We cannot yet confirm whether his replacement in the Department of Communications, Climate Action and Environment will attend. However, we are hopeful that he or she will.
Speakers and discussions will address
• The Trailblazers: successful Energy Co-ops in Ireland
• The Steps: what communities need to do now to be ready for RESS
• The Timeline: Road-map for Energy Co-ops and Communities 2018-2022
• International best practices and models to Irish communities can follow
• The Irish Co-operative Sector (turnover of €14bn)
• Engaging with the Network of Irish Community Organisations
• National policy towards, and supports for, community sustainability and energy production
• European and Regional Supports for Communities engaging in the Sector
Natural resources should belong to everyone in a community, and so ECI are certain that with a renewable energy co-op, citizens can ensure that the revenue from renewable resources remain in the hands of all the community.
This is event is kindly supported by WDC's Local Energy Communities Project
SPEAKERS AT THE EVENT WILL INCLUDE
• Enda Gallagher, Department Communications, Climate Action and Environment
• Declan Meally, Sustainable Authority of Ireland
• Seamus Boland, CEO Irish Rural Link
• Dr Jeanne Moore, National Economic and Social Council
• Dr Vincent Carragher, Trinity College Dublin
• Dr Orla Nic Suibhne, Western Development Commission and LECo
• Darragh Walshe, ICOS
• Lúgh ó Braonáin, Energy Co-operatives Ireland
• Barry Clarke Kerry Renewable Energy Co-op
• Eamon Conceannan Fuinneamh Oileáin Árainn Co-op
• JP Prendergast Claremorris and Western District Energy Co-op