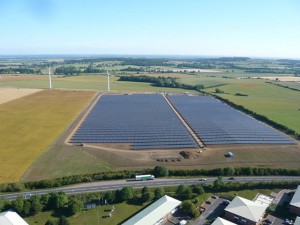 Westmill Solar Co-operative, established in March 2011, is intended to enable community ownership of its soon to be constructed 5MW solar park on the Oxfordshire/Wiltshire border. The Solar Farm opened a share offer from 23rd June last prioritising locals who wished to purchase shares in the scheme. After receiving more than 1600 share applications, Westmill declared the share offering fully subscribed and therefore now closed.
Describing how the project has successfully raised its UK£4m target, Philip Wolfe, Chairman, Westmill Solar Cooperative stated 'It is clear that the offer will be fully subscribed with a very comfortable margin of safety'.
It has been suggested that Westmill will be the largest community owned solar farm in the world and it acts as a model for future similar community owned initiatives elsewhere, including Ireland.
Solar PV: Ireland and the UK
The UK Solar PV industry is adjusting to a radical reshaping of the UK's renewable energy subsidy landscape. Since October last year there has been a reduction in the level of the UK's Feed in Tariff (FIT) for solar pv from 43p per kwh to just 16p for residential and 13.5p for commercial producers. This has led to questions being asked in the UK over the commercial viability of solar pv farms. However, the fall in the price of solar cells as production methods, materials and economies of scale improve, means that solar pv can make decent returns on initial investment over the medium to long term (in the UK this is estimated at 9.5% annually). The future commerciality of solar pv in Ireland where it attracts no REFIT remains in doubt.
However, it is the funding model of Westmill with its mix of local co-operative ownership and medium term credit from corporate bondholders based on a 10-15 year investment schedule that offers its most practical example to Irish energy co-operatives seeking alternative methods of raising finance.